The Vietnamese men's football team is assured a spot in the semifinals of the 25th SEA Games after crushing Cambodia 6-1 on December 11 at the Chao Anouvong Stadium.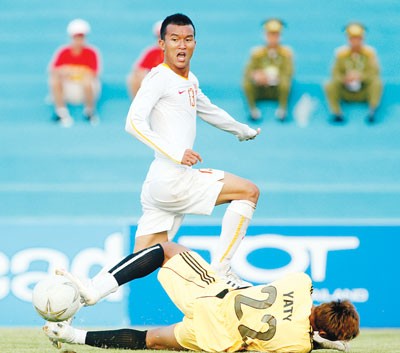 Vietnam's Mai Tien Thanh runs past a downed Cambodian player after a successful attack at the 25th SEA Games in Vientiane, Laos on December 11. (Photo: SGGP)
After their fourth match of the Games, Vietnam now leads Group A while Malaysia made a dramatic comeback beating Thailand 2-1 the same day.
Vietnam dominated the match with Cambodia as strikers Trong Hoang and Quy Suu created several opportunities to score.
In the 11th minute, skipper Thanh Luong scored the opener moving prolifically past a Cambodian defender.
In the 42nd minute, Thanh Hung put a header past Cambodia's goalkeeper, securing a second goal for Vietnam.
The score at the end of the first half was 2-0.
After break time, Vietnam continued to attack with Thanh Luong achieving a third goal in the 62nd minute.
Just two minutes later, Vietnam substitute Dinh Tung fired a fourth successful header.
In the 68th minute, Cambodia's Khim Borey narrowed the score with a close-range shot.
Dinh Tung continued Vietnam's winning streak with a fifth goal in the 83rd minute while Manh Dung scored a sixth in the 90th minute.
The triumphant battle came at a price, however, with Vietnam player Trong Hoang incurring a serious injury.
Malaysia, meanwhile, stunned defending champions Thailand to secure a spot in the semifinals after winning 2-1.
Thailand's Arthit Sunthorphit fired an opener in the 52nd minute but Malaysia came back strong equalizing the score in the 80th minute with a successful shot by Nasriq Baharom.
Then in stoppage time, Malaysia's Norsharul Idlan Talaha weaved past two Thai defenders inside the box and sent the ball to lurking striker Fakri Saarani who scored the last-gasp winning goal.
Against all odds, the Malaysians pull¬ed off the spectacular win over the Thais in their final Group A match at the Main Stadium of the National Sports Complex in Vientiane, Laos.
Failing to qualify for the semifinals for the first time in 36 years, it was one of the biggest blows for Thailand in the history of SEA Games men's football.
The last time Malaysia beat Thailand in the SEA Games was in 1989 in Kuala Lumpur when they won 1-0 in the semifinals.
Thailand, champions of eight Games since 1993, only needed a draw with Malaysia to pull through to their 19th consecutive semifinals.
Group A winners Vietnam will now take on Singapore while Malaysia will play against Group B winner Laos on December 14.


Men's football ranking at the 25th SEA Games

GROUP A

Team/Rank

Games

Win

Draw

Lose

Goal Difference

Points

Vietnam

4

3

1

0

14/3

10

Malaysia

4

3

0

1

18/4

9

Thailand

4

2

1

1

15/3

7

Cambodia

4

1

0

3

5/15

3

East Timor

4

0

0

4

1/28

0

GROUP B

Laos

3

1

2

0

3/1

5

Singapore

3

1

2

0

4/3

5

Myanmar

3

1

1

1

5/4

4

Indonesia

3

0

1

2

3/7

1