2015 was an impressive year for Vietnam Sports in both domestic and international sport playgrounds, highlighted a new young talent generation; especially the Ho Chi Minh City talent athletes included chess player Nguyen Anh Khoi, gymnast Le Thanh Tung, swimmer Nguyen Diep Phuong Tram, shooter Iwaki Ai and others.
Sai Gon Giai Phong has selected the Ho Chi Minh City young talent athletes, who harvested the best achievements last year.

1. Chess player Nguyen Anh Khoi

Although Nguyen Le Cam Hien, a young chess player from Quang Ninh excellently won the World Chess Championships 2015 but Nguyen Anh Khoi was honored as the first-winning Vietnamese athlete.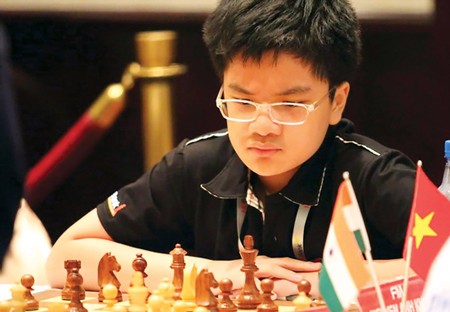 Young chess player Nguyen Anh Khoi
In 2015, Anh Khoi rarely joined in the international competition because he had to focus on studying in school; however, the young athlete from Ho Chi Minh City won the U14 rapid chess and blitz chess titles at Asian Youth Chess Championships 2015.
Earlier, Anh Khoi had owned a gold medal at U10 World Youth Chess Championships 2014 in Slovenia when he won constantly 11 games. In 2012, he took one more gold medal in his medal collection at the U12 Youth Chess Championships.

2. Gymnast Le Thanh Tung: "Dream of a baker"
Currently, Le Thanh Tung is expected to be a new face of the city's apparatus when he won a silver medal at Toyota Cup 2015.

With the 2015's achievements, Thanh Tung shared: "The gold medal in the 28th SEA Games 2015 is my dream. I am happy for the achievement".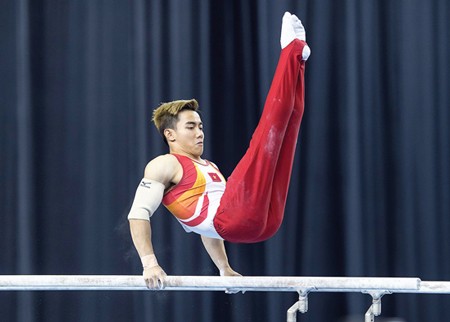 Gymnast Le Thanh Tung
Being 20 years old, Thanh Tung excellently earned two more gold medals at the 2014 National Sport Olympiad and SEA Games.
However, Thanh Tung and his family has still been meeting many difficulties in their life as his father is a motorbike driver and his mother is a baker.

Thanh Tung ever shared with the domestic and international reporters at winning moment at the 28th SEA Games- 2015 that he wanted to send the awards to my parents".
At present, Thanh Tung has joined in training programs in Hanoi, besides, he has still saved his time to help mother in selling bread.

3. Swimmer Nguyen Diep Phuong Tram

Although Phuong Tram is only 14 years old, she has got many successes as her older colleagues Nguyen Thi Anh Vien and brought home gold medals. She is expected to be the Vietnam's leading female swimmer in the future. At this time, Phuong Tram becomes the vital competitor of Anh Vien because she not only beats against Anh Vien for second times but also broke the record of Anh Vien in the category of the women's 500 meters butterfly and 50 meters freestyle at the 2015 National Swimming Championship.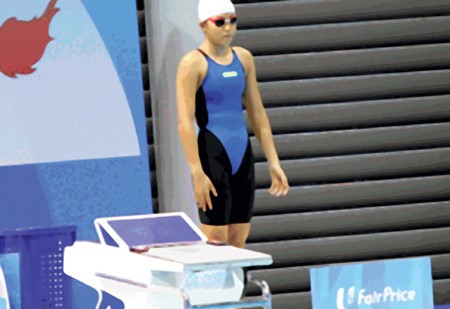 Swimmer Nguyen Diep Phuong Tram
At the end of last year, Phuong Tram harvested nine gold medals and set five new records at the 2015 Southeast Asian Age Group Swimming Championships.
In the 28th SEA Games 2015, she was the youngest athlete of Vietnam Sport Delegation.
4. Shooter Iwaki Ai
Vietnamese Japanese Iwaki Ai, known as Nguyen Hang who won the first bronze medal for Vietnam Sport Delegation at the 2015 Asian Shooting Championships in Kuwait; and she will be new star of Vietnam's shooting team in near future.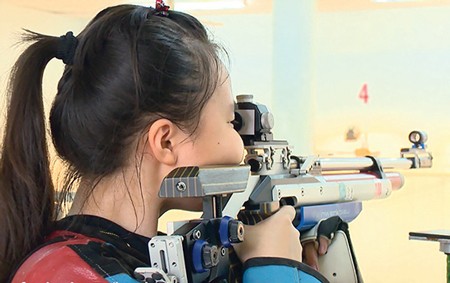 Shooter Iwaki Ai
In 2015, Iwaki Ai was the youngest shooter winning the gold medal at the National Shooting Championships.
Iwaki Ai hoped to be able to participate in Olympiad Games 2016.