Vietnam coach Henrique Calisto and his Under-23 training squad for December's Southeast Asian Games kicked off their overseas training session in China's Kunming on Sep. 17.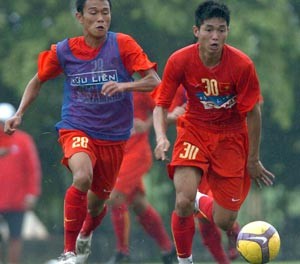 Two players of the Vietnam U-23 squad practice in China's Kunming on Sep. 17
They spent the first whole day practicing after arriving in Kunming late Wednesday. They will stay in Kunming 10 days before returning to Hanoi.
Two weeks ago, Portuguese tactician Calisto named 23 players who would form the U-23 training squad for the SEA Games in Laos, with the majority of them coming from the team which won the Merdeka Tournament in Malaysia last year. He said Vietnam's goal was to win at the 25th SEA Games.
The players then started their training camp in Hanoi with former national players Le Huynh Duc and Nguyen Van Si joining Calisto as assistants to the national squad and U-23 team.
Duc is the head coach of Danang SHB Club, who won this year's Vietnamese League last month. Meanwhile, Sy is the coach of Ninh Binh, the champions of this year's first division thus being promoted to the V-League.
Calisto said, "I did not choose Duc and Sy base on their performance in leading Danang to the V-League title or Ninh Binh's first division championship, I had wanted these young coaches as my assistants a long time ago."
The two assistants will serve as the caretakers managing the national squad while Calisto is busy with the preparation of the U-23 squad for the SEA Games at the end of the year.
The national squad will convene next month to prepare for the qualifying round of the Asian Cup 2011. They will gather in Ho Chi Minh City early October to prepare for the HCM City International Football Cup from 20-24 October.
They will then fly to Hanoi for the first-leg match of the Asian Cup 2011 qualifiers against Syria at the My Dinh National Stadium on November 14. The team will head to Syria the next day to play the second leg on November 18.