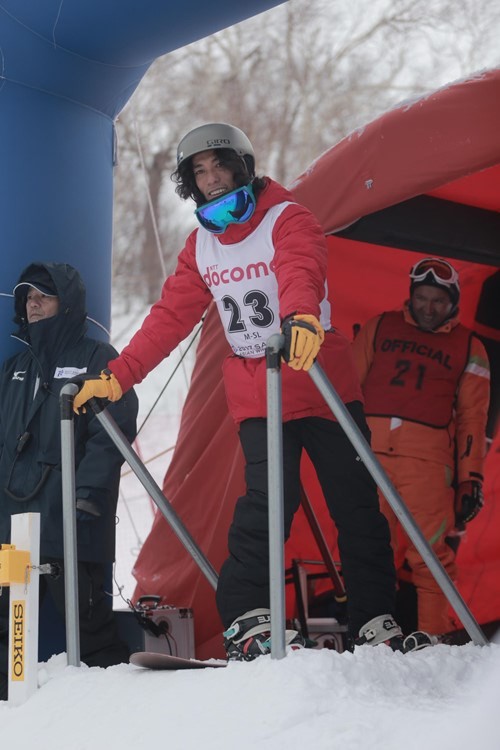 Athlete Nguyen Thai Binh (Photo: vtv.vn)
Thoi finished at 2'33''57, ranking 22nd in the first race and posted an 18th-place finish at 2'24''57 during the second race.
Meanwhile, Binh failed to finish the competition in the first race and was sidelined.
The gold medal in this competition went to Lee Sang-ho from the Republic of Korea (RoK) who hit the finish line in the two races at the total 1'16''9. He was followed by Suzuki Yuya from Japan and Kim Sang-kyum from the RoK.
The same day, speed skating competition saw new records in four categories.
In the men's 5,000m event, Lee Seung-hoon from the RoK came first at 6'24''32. While in the men's 500m event, Chinese skateboarder Gao Tingyu won after timing in 34"69.
The women's 1,000m was won by Nao Kodaira of Japan at 1'15''19, and Miho Takagi triumphed in the 3,000m race at 4'5''75.
Skaters from the RoK overwhelmed others in short-track speed skating, where Choi Min-jeong took the gold medal in the women's 1,500m and Park Se-young gained victory in the men's 1,500m.
In total, the RoK topped the tally with six golds, three silvers and five bronzes, followed by Japan, China and Kazakhstan.
The Asian Winter Games 2017, underway from February 19-26, attracted 1,139 athletes from 31 countries and territories competing for 64 sets of medal in 11 competitions.
This is the first time Vietnam along with Indonesia, Timor Leste, Pakistan, Turkmenistan, Sri Lanka, Australia and New Zealand have sent athletes to the event, which has been hosted by Japan four times with Sapporo city being chosen for its venue three times.
The Vietnamese team joined the event with six athletes. On February 23-24, they are due to compete in cross-country skiing.