Hosts Vietnam continued to rank first in the third Asian Indoor Games on November 3 with 19 gold, 12 silver and 11 bronze medals.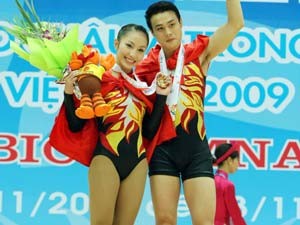 Tran Thi Thu Ha (L) and Vu Ba Dong of Vietnam win an aerobic gold medal in the third Asian Indoor Games in Vietnam Nov. 3 (Photo: SGGP)
China continued to be close with 18 golds, 11 silvers and six bronzes. Kazakhstan stepped up to the third place with eight golds, five silvers and seven bronzes. The Republic of Korea ranked fourth with seven golds, eight silvers and seven bronzes, followed by Iran, Thailand, Saudi Arabia, Indonesia, Uzbekistan and Qatar.
On November 3, the fourth day of competition, Vietnamese man Vu Ba Dong and women Tran Thi Thu Ha won a gold in aerobic gymnastics, the mixed double, with 20.875 points. The couples of Republic of Korea and Thailand came second and third, respectively.
It was Vietnam's first gold in aerobic gymnastics in an official Asian competition.
In Kurash (martial arts originated in central Asia), Nguyen Tuan Hoc brought home a gold. He secured the top spot after defeating Boboev Uktam from Uzbekistan in the 73 kg weight division. Kurash is a form of upright jacket that has been practiced for more than 3,500 years in central Asia.

Also on the fourth day of the competition, To Trung Hieu beat Yang Zheng from China to 2-1 to take bronze in the E-Sports' FIFA Soccer 09 event.
On the same day, Vietnamese Kabaddi players had to leave the games early after two defeats at the hands of their Indian and Sri Lankan rivals on their first day of competition.
Also Tuesday, Pencak Silat artists from Asian countries gathered at the Hai Duong Stadium, Hai Duong Province, to compete in 18 matches in the qualifying round's combat event with absolute and overwhelming victories going to those from the host country.
Vietnam's Dang Dinh Tien made a successful start as he knocked out Al-Buaimain Mohd from Qatar in the men's singles one-cushion Carom event.
Tien's teammate, Cao Thanh Truc, attained an overwhelming win against his Qatar competitor, Abdulatif Al-Fawal, on November 2.
On Tuesday, chess players stepped into the semi-finals in the men's and women's rapid chess events. Two Chinese players, Wang Hao and Bu Xiangzhi, will meet face to face in the final match of the men's rapid chess event while Hou Yifan of China will vie with Qatar's Zhu Chen for gold in the women's event on November 4.