Vietnamese athlete Nguyen Thi Hoai Thu had to accept a silver medal at the Asian Games on November due to losing to Thailand's Phongsri Sirita 4-3 in the women's Taekwondo under 53kg weigh category final.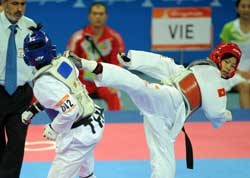 Nguyen Thi Hoai Thu (right) deals a right kick on her Thai rival in the women's under-53kg final of taekwondo event in the Asian Games. Thu bagged a silver medal. (Photo:VNA)
Thu, present SEA Games Taekwondo championship, who took the lead 3-1 in the first bout with a right kick to the face, would have won the gold as the two sides drew in the second bout at Guangdong Gymnasium.
But Taekwondo artist Thu could not maintain her momentum in the third round when her Thai rival fought back to win 4-3 with a counter-attack in the last 20 seconds.
Thu brought home the ninth silver medal for Vietnam at the Asia's biggest sporting event.
In rowing event, Pham Thi Thao and Pham Thi Hue bagged a silver in the women's 2,000m double sculls, helping the country get the silver for the first time in the event.
In women's football event, Vietnamese women's football won Jordan 3-0 in the last match.
The country's top badminton player Nguyen Tien Minh secured a quarter-final berth in the men's singles after a 21-18, 21-13 win over Thailand's Saensomboonsuk in the final 16.
Minh meets Chinese Lin Dan today.
The Chinese still top of the rankings with 109 gold medals, followed by the Korea with 37 gold medals and Japan with 21 gold medals.
Viet Nam have won nine silver and 10 bronze medals and are 18th in the medal tally.