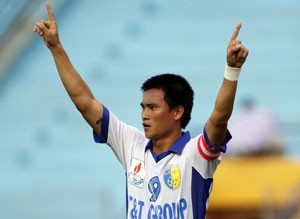 Le Cong Vinh, captain of T&T Hanoi
Vietnamese top striker Le Cong Vinh is scheduled to play for Portugal's Super Liga club Leixoes from September 1 to December 31 this year to become the first Vietnamese to play in Europe.
Mr. Do Quang Hien, president of Vinh's Vietnamese League club T&T Hanoi, has just come back from a Portugal trip to work on a contract for the Vietnamese striker to join the Portuguese club.
Hien told Sai Gon Giai Phong that during the trip, he was also seeking to work on a contract to bring Portuguese superstar Cristiano Ronaldo, the world's record of £80million transfer from Manchester United to Real Madrid, to Hanoi for a performance show.
Ronaldo had agreed in principle Hien said, adding that the time might be at the end of the year.
Back to Vietnamese striker Vinh's contract, Hien said the contract is just the initial stage of a long-term process of cooperation between his club and Leixoes. He added Leixoes wants to promote its image in Southeast Asia.
Vinh was recommended by Vietnam head coach Henrique Calisto, a Portuguese.
Vinh is set to fly to Portugal on August 20 or so, according to T&T Hanoi president Hien.
T&T Hanoi are chasing for a place in the top three of the Vietnamese League.
As agreed by the two clubs, Vinh can return to play for Vietnam against Syria on November 14 and 18 in the 2011 Asian qualifying round.