Star Vietnamese striker Le Cong Vinh is likely to go on loan to topflight Portuguese club Leixoes for three months from September after his club, T&T Hanoi, refused to sell him.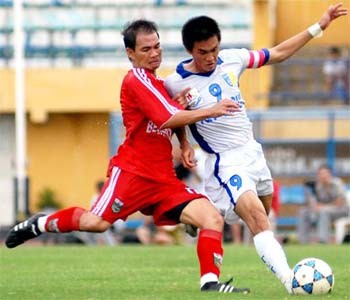 T&T Hanoi will loan striker Cong Vinh (R) to Portuguese club Leixoes for three months starting September
Vinh's manager Do Quang Hien said Leixoes offered T&T a reasonable transfer fee but the Hanoi club rejected the offer. 
Mr. Hien will meet Leixoes officials to sign a contract on August 6 but Vinh's salary has not been revealed yet.  
In an interview with Tuoi Tre newspaper on August 4, the Vietnamese national team's Portuguese coach Henrique Calisto said the three months at Leixoes would be a massive opportunity for Vinh to improve.  
He complimented the striker as one of the best Vietnamese players at present.  
"Leixoes promised good terms for the striker when he was practicing and playing in Portugal."  
It would provide him accommodation, he said.