With the experiences from the 2011 WTF World Taekwondo Championships Gyeongju and the training course in Korea from April to June, six Vietnam athletes, Doan Thi Huong Giang, Nguyen Thanh Thao, Nguyen Thi Duong, Chu Hoang Dieu Linh, Le Huynh Chau and Duong Thanh Tam are now expected to be chosen to join the London 2012 Olympic Games.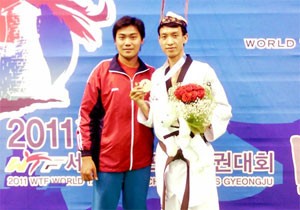 Le Huynh Chau (right) celebrates for his bronze medal in the 2011 WTF World Taekwondo Championships Gyeongju (Photo: Thanh Vu)
According to Mr. Vu Xuan Thanh, Head of Vietnam Taekwondo Department, Vietnam athletes will attend two selecting competitions to find out the most deserving athletes for the London 2012 Olympic Games. The first competition will be held in Baku, Azerbaijan from June 30 to July 3 for the athletes around the world with eight weight classes, namely 58, 68, 80 and over 80 for men and 49, 57, 67 and over 67 for women.
Each country can only register for two male and two female weight classes. The second one is a continental competition. In Asia, it will be held in Bangkok, Thailand from November 4 to 6 and this is the second chance for the countries which still do not have four athletes passing the first competition.
In the world and Asian selecting competitions, the top three athletes of each weight class will go to London. As schedule, six Vietnamese athletes joining the competitions are Huong Giang – 49kg, Thanh Thao and Nguyen Thi Duong – 57kg, Dieu Linh – 67kg, Huynh Chau – 58kg and Thanh Tam – 68kg.
Before the selecting competitions, all countries have tested and chosen a team for the 2011 WTF World Taekwondo Championships Gyeongju in Korea from May 1 to 6. According to Mr. Truong Ngoc De, Vice President and Secretary-General of Vietnam Taekwondo Federation, most of the Vietnam athletes stopped at the first round because this is the first time they joined the world championships. In Huynh Chau's situation, if he had had better preparation for the competition, he could have gained a more deserving achievement for Vietnam.  
Mr. De thought that three Asian Games and two Olympic Games recently was a hard time for Vietnam Taekwondo because no medal was gained. "After the world championships, the staff of Vietnam Taekwondo Federation held a meeting to withdraw experiences and develop a new plan.
It includes stabilizing the number of trainers and athletes, paying much attention to physical strength, technique and strategy, updating the regulations to keep pace with the World Taekwondo Federation's changes because they regularly improve to prepare for the London 2012 Olympic Games and the existence of taekwondo.
Because of the unstable rule systems, every country, even Korea also encounters many difficulties. Despite the difficulty, the preparation also had many achievements and the use of electric armor to create equitableness in the competition is an example. To organize better competitions in the future, we should take advantage of opportunities to make a good preparation as Thailand has done to reach the top in the world rank since 2003," said De.
Although we are now put in a challenging period because of the absences of many experienced athletes like Nguyen Van Cuong, Nguyen Thi Hoai Thu who are suffering from pain, Vietnam Taekwondo Federation still hope that at least two Vietnam's young athletes will take part in the 2012 London Olympics Games and five to six gold medals will be won in the 26th SEA Games in Indonesia at the end of this year.