Vietnam went through to the semifinals of the Southeast Asian football championships as they beat Laos 4-0 in the final match day of Group B. In the earlier game, hosts Thailand made the last four following their easy 3-0 win over Malaysia.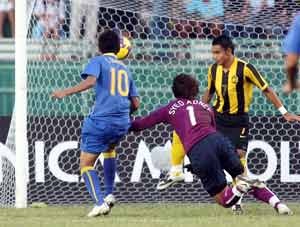 Thailand's Teerasil Dangda (10) scores his first goal in the game with Malaysia Wednesday (Photo: SGGP)
At the Surakul Stadium in Phuket, the hosts' win over Malaysia made Vietnam the second best team in the group, and a draw with Laos was enough for the Vietnamese to book a place in the semifinals of the AFF Suzuki Cup.
Malaysia missed out on the semi-finals for the first time as from 1998.
Winger Sutee Suksomkit pushed Thailand ahead in the 23rd minute from an unchallenged shot close to Malaysian goalkeeper Adney Hussein. Then, striker Teerasil Dangda grabbed the first of his two goals seconds after the break when he picked up a neat pass from captain Datsakorn Thonglao, rounded the keeper and slotted home. He completed the rout after 76 minutes with a cool finish inside the box.
The result made the next game an easier one for Vietnam when they played Laos, who had conceded losses to both Malaysia and Thailand.
Vietnam and Laos played equally in the first half and none scored. After the break, Vietnam head coach Henrique Calisto replaced striker Le Cong Vinh, who has not scored at all till that time in the regional tournament, with Nguyen Viet Thang.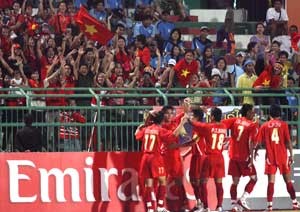 Vietnamese players share with their cheering fans their happiness for a place in the semifinals during the Vietnam-Laos match at Sarakul Stadium (Photo: SGGP)
Just three minutes into the second half, Thang ran in from the flanks for a shot from inside the box to fire for Vietnam. From then on, Vietnam never looked back as in the 63rd minute, Thanh Luong added the second goal before Quang Thanh and Thanh Binh scored the third and fourth goal respectively.
In the semifinals, Group B winners Thailand will take on Group A runners-up Indonesia on December 16 in an away game, and on Dec. 20 in a home match.
Defending champions Singapore, who topped Group A, will play Vietnam in Hanoi on Dec. 17 and in the Lion City on Dec. 21
The biennial Southeast Asian football championships has taken place six times so far, not including this time, and Singapore and Thailand have won three times each.