Vietnamese athletes took 16 more gold medals in Southeast Asian Games 25 in Laos' Vientiane Wednesday and pulled level with Thailand at the top of the medal tally.
Both Vietnam and Thailand earned 61 golds in the end of Wed but the Thais still ranked higher because of more silvers and bronzes.
A total of 16 golds included the women's football title. Vietnam beat Thailand in the women's final thanks to the penalty shoot-out after the two teams drew 0-0 in 120 minutes. Vietnam succeeded in the first three penalties but Thailand failed all three.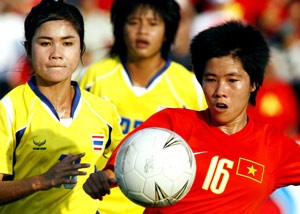 Le Thi Thuong of Vietnam (red) chases for the ball with a Thai player in the SEA Games final at Chao Anouvong Stadium in Vientiane, Laos Wednesday. Vietnam secured the title after beating Thailand 3-0 in the penalty shoot-out (Photo: SGGP)
The Vietnamese women won three SEA Games golds in a row in 2001, 2003 and 2005, but lost 0-2 to the Thais in the 2007 Games final in Thailand.
Wednesday's golds for Vietnam also included three in judo, two in shuttlecock and one in the women's 200 meter race. Vu Thi Huong, who won the 100 m race on Sunday, clocked 23.31 to take another gold, followed by Myanmar's Kay Khine and Vietnam's Le Ngoc Phuong.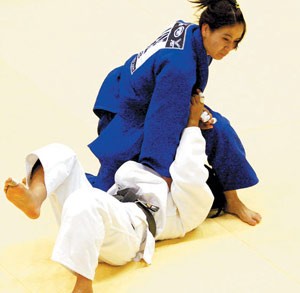 Van Ngoc Tu of Vietnam (in deep blue) beats her opponent in the final of the women's judo, 48 kg category on Wednesday (Photo: SGGP)
In the women's judo, Van Ngoc Tu of Vietnam won the gold in the 48-kg category. It was her consecutive fourth gold in the latest four SEA Games editions.
In swimming, the Vietnamese athletes continued to show good performance as they took three more golds Wed. Nguyen Nhat Tu came first in the men's bi-fins event, Phan Luu Cam Thanh finished first in the men's 50-meter surface event and Tran Bao Thu was the fastest in the men's 400-m surface.
In billiards and snooker, Nguyen Phuc Long of Vietnam beat Indonesia's Ricky Wang in the final of the men's 9 ball pool, taking the third gold for Vietnam in this sport.
In the women's volleyball, powerhouse Thailand easily beat Vietnam 3-1 (27-25, 25-12, 25-15 and 25-20) to take the gold. Vietnam won the first set but lost in the next three ones. This result showed no countries in the regional can compete with Thailand in the women's football. Actually, the Thai women surprisingly won the 2009 Asian tournament, where both powerful China and Japan competed.