In the Double Star 2011 Sudirman Cup BWF World Team Championships, with a 5-0 win to Bulgaria on Thursday, Vietnam officially stood at second position in Group 3B and will meet Czech Republic of Group 3A in the competition for the 23rd rank.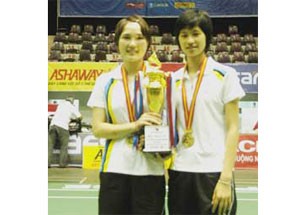 Nguyen Thi Sen (right) and Vu Thi Trang celebrate for their victory in the 2009 Pro Ace Cup (Photo: baobacgiang.com.vn)
It is not very surprising that Vietnam's badminton players easily defeated the Bulgarians with a breathtaking 5-0 win in China last Thursday.
Vietnam's winning series began with a 2-0 defeat of Bang Duc and Hong Gam in the mixed-doubles in only 20 minutes to Bulgaria's Boychinov and Manea. The world 7th ranked player Nguyen Tien Minh proved his superiority in his ability with a 2-0 win, 21-10 and 21-6 in the men's singles to the world 650th ranked player Ivan Rusev. These achievements brought a 2-0 lead to Vietnam.
In the women's singles competition, despite the 12-21 loss to Bulgaria's Popstoykova, Vu Thi Trang changed the situation with her 21-10 and 21-12 wins and reinforced the victory for Vietnam with a 3-0 lead.
In the two other matches, Vietnam's Bang Duc and Manh Thang beat Bulgaria's Boychinov and Yankov with a 2-0 win, 22-20 and 26-24, in the men's doubles while Nguyen Thi Sen and Vu Thi Trang left behind two Bulgarian players Popstoykova and Maneva with their 21-9 and 21-10 wins in 2 sets of women's doubles and ensured the ultimate triumph of Vietnam team with a 5-0 win to Bulgaria. 
The first round ended with the following results: Swedish team led Group 3B with three wins, Vietnam stood at the second position with two wins to Bulgaria and South Africa and one loss to Sweden, South Africa ranked third with one win and two losses and Bulgaria was placed 4th with three losses. In Group 3A, Australian team led the group with 3 wins. In succession, Czech Republic, Peru and Slovakia stood at 2nd, 3rd, 4th position.
As the rule says, winners of Group 3A and 3B, Australia and Sweden will compete for the 21st position, while second-place teams of Group 3A and 3B Czech Republic and Vietnam will faced with each other for the 23rd position.