The Ho Chi Minh City international football championship – SJC Cup – will take place at Thong Nhat Stadium from October 20-24, the organizers announced Oct. 9.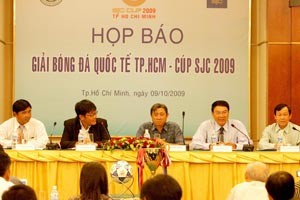 The Ho Chi Minh City International Football Cup organizers brief about the tournament on Oct. 9
The four teams in the tournament are Singapore, Turkmenistan, Vietnam and the South Korean team of students.

Vietnam will play Turkmenistan , the tourney's defending champions, in the opener at the city's Thong Nhat Stadium on Oct. 20. They will meet the Korean student squad on Oct. 22 and Singapore two days later.
The winners will reiceive a cash prize of US$20,000, the runners-up will pocket US$10,000, and the third team US$5,000.
The tournament is seen as a warm-up for the Vietnamese team to prepare for the qualifying round of the Asian Cup 2011, where they will play Syria's national team in Hanoi on Nov. 14, and in Syria four days later.