The Democratic People's Republic of Korea (DPRK) brought their strong squad to Hanoi, offering a strong test for Vietnam ahead of coming tournaments.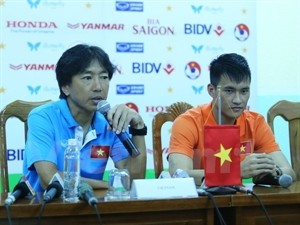 Vietnam's coach Toshyia Miura and striker Cong Vinh at a press conference (Source: VNA)
The two sides will play a friendly match at My Dinh Stadium on May 17.
Coach Kim Chang Bok arrived in Hanoi on May14 with experienced players who played hosts Vietnam five years ago.
Goalkeeper Ri Myong Guk is one of the most experienced players; he played 15 matches for the national team at the World Cup qualifier in 2010. He and teammates then won their tickets to the final for the first time after 44 years.
Ri was voted the best Asian player in 2009.
Defender Jon Kwang Ik, midfielders Jang Song Hyok and So Hyon Uk are the other players to watch.
Jon has played many international competitions from the youth level to World Cup.
Jang was the one who scored the decisive goal to help his team beat Turkmenistan 2-1 in the final of AFC Challenge Cup 2012. Meanwhile, 23-year-old So is considered as a potential striker for the DPRK.
Five of these 21 Korean players were part of the team that defeated Vietnam 2-0 during the final match of the Vietnam Football Federation Sonha Cup in 2010.
They have two days to practise and familiarise themselves with the stadium's field conditions as well as Hanoi's hot weather.
Meanwhile, Vietnam's coach Toshyia Miura is troubled by his players' injuries.
Some of his key players suffered injuries in recent days; it has forced the Japanese coach to call seven players from the U23 squad to fill the hole.
Miura said the combination of senior and young players will give good results although they will get only a short time to train together.
The friendly is the last match for Vietnam before the team heads to play Thailand in the World Cup 2018's qualifier a week later.
The match will also be telecast live on VTV channels from 7pm.