Draw for the Women's Asian Football Cup 2010 made in Malaysia on Saturday put Vietnam into Group B with Australia, China and South Korea. The Chinese, Koreans and Aussies were free from qualifiers, which took place this July.
Meanwhile, Group A is consisted of defending champions North Korea, Japan, Myanmar and Thailand.
China were the runners-up in the 2008 tournament. Japan came third and Australia fourth.
Japan have never won the Asian title since the tournament's inception in 1975, losing in the finals four times, their last defeat coming in 2001 to North Korea.
As for next year, the two Koreas, Japan, Australia, and China were free from the qualifiers. The three others – Myanmar, Thailand and Vietnam – were the survivors after the qualifiers.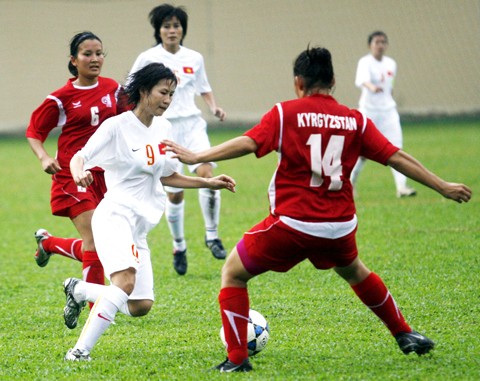 Vietnam striker Ngoc Cham (No. 9) fights for a ball with a Kyrgyzstan player during an AFC Asian Cup qualifier on July 4, 2009 at Thanh Long Stadium in Ho Chi Minh City. Vietnam beat Kyrgyzstan 10-1 (Photo: VNExpress)
The Asian women's tournament will be staged between May 19 and 30 in Chengdu, China, next year.
The top two teams from each group will qualify for the semi-finals while the top three finishers from this tournament will qualify for the FIFA Women's World Cup to be held in Germany from June 26 to July 17, 2011.
In the Women's Asian Cup 2008, held in HCMC, Vietnam were in group A together with reigning champions China, North Korea and Thailand. The home side lost 0-1 to the Chinese and 0-3 to North Korea, and then finished their competition with a 1-0 win over Thailand.
Then in the Women's ASEAN Cup 2008, slated later also in HCMC, Vietnam lost 0-1 to Australia in the final, taking the silver medal.