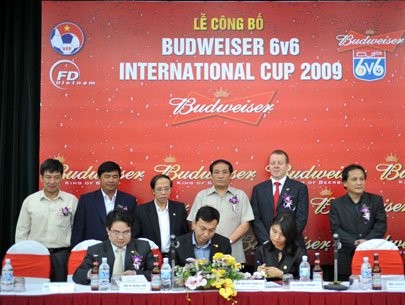 Representatives of the Vietnam Football Federation and Budweiser Beer at an agreement signing ceremony for the Budweiser 6v6 Cup Vietnam 2009 in March (File photo)
Vietnam's six-per-side football tournament 2010 will be held from March 7 to April 4 to choose the winners to represent the country in the world championships in South Africa.
A total of 128 teams across the country have registered for this year's tournament. They will be divided into four regional groups to compete in Hanoi, Ho Chi Minh City, Da Nang and Nha Trang.
Each region will have 32 teams, divided in 8 groups. The teams in one group will play in a round-robin format, and the best two teams will be qualified for the 1/8 round.
The eight winning teams of the 1/8 round will then play for the best two teams to represent the region and compete with six other teams to select the final winners.
The champions will represent Vietnam at the International 6v6 Championships 2010 in Pretoria, South Africa.
Vietnam came second after Argentina in the Budweiser International 6v6 Championships 2009, played at the Old Trafford Stadium, home of English Premier League powerhouse Manchester United. It was the first time Vietnam joined the international game.