Vietnam won another bronze medal at the ongoing World Wushu Championships in Jakarta, Indonesia.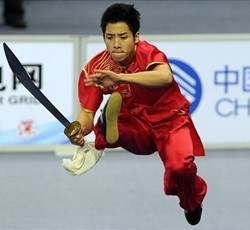 Nguyen Manh Quyen (Photo: vothuat.net.vn)
Nguyen Manh Quyen finished third in the men's daoshu (broadsword) event. Vladimir Maksimov of Russia took the gold medal, while the silver medal went to Seungjae Cho of the Republic of Korea.
It is Vietnam's third medal in the event.
Earlier, Duong Thuy Vi won a silver and a bronze medal in the women's qiangshu (spear) and changquan (long fist) events.
Quyen had bagged a bronze medal in the men's daoshu event at the 2010 Asian Games.
More than 900 fighters and officials from 73 delegations are taking part in the five-day event which will finish on November 18.
It is the official world championships hosted by the International Wushu Federation.
It takes place biennially and features the highest competitive level within the sport.