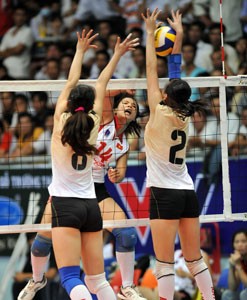 An attack from the Vietnam team (far)
The women's volleyball team of Vietnam defeated Ukraine's Technocom 3-0 in the final of the International Women's Tournament-VTV Cup in Buon Ma Thuot City on August 22.
Vietnam won by 25-23, 27-25 and 25-23 in the game.
The women from Ukraine were higher than the Vietnamese but their attacks could not help them win.
In the first set Vietnam won 25-23 when Ngoc Hoa scored the match point with her quick smash.
In the second set, Technocom went ahead 24-23, but the Vietnamese women finished 27-25 in the end.
In the third set, Vietnam edged the guests 25-23.
In the knock-out for the third position, China's Guangdong beat Thailand's Phuket 3-0.
Australia won the fair-play title while VTV Binh Dien Long An of Vietnam earned the consolation prize.