Vietnam martial artists have won eight gold, nine silver and three bronze medals at the 15th Pencak Silat World Championship in Chiang Rai in Thailand.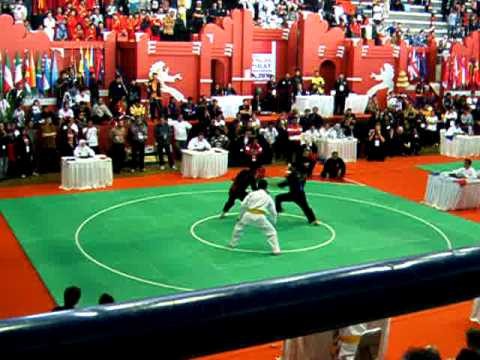 At a match between Vietnam and Indonesia (Photo: webste TDTT)
All the eight gold medals were won in tanding (combat competition). Indonesia, where Pencak Silat originated, only earned three gold and four silver medals at the event.
Earlier, Vietnam won five silver medals and Indonesia took all gold medals in seni (fighting), in the performance round of the event.
Thus, Vietnam won the championship title at the first world Pencak Silat Championship.
Though Pencak Silat was propagated in Vietnam about ten years, Vietnam Silat artists repeatedly gained medals in regional and world tournaments.
Earlier, Vietnam also won the championship title at the first Asian Pencak Silat Championship that ended in Bedok Sports Hall in Singapore on April 18 this year.
After six days of competition, Vietnam picked up 11 gold, six silver and four bronze medals at sini (performance) and tanding (fighting) categories.
The host country Singapore ranked second in the tournament, followed by Indonesia.
The tournament attracted the participation of 135 martial artists from 11 regional countries, including Vietnam (31 members), India, Brunei, Indonesia, Malaysia, the Philippines and Thailand.