Nguyen Thi Anh Vien has just won Vietnam its first silver medal at the Dubai Asian Swimming Championship on November 18, after pocketing a bronze three days earlier.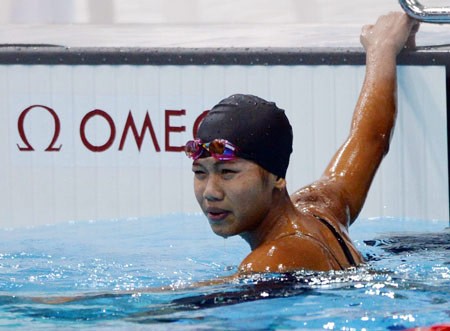 Nguyen Thi Anh Vien (photo VNnet)
The 16-year-old girl achieved an impressive result in the women's 200m backstroke qualifying round, finishing third in 2'.15''.05, just behind Marie Kamizuka of Japan (2:13.'45) and Bai An Qi from China (2:14.85).
In the final round, the Can Tho City born athlete overtook Marie Kamikuza in the last meter and touched the finish line in 2:12.47, breaking the national record.
On November 16, Vien came third in the women's 400 medley event with a time score of 4:48.23.
She was the first Vietnamese athlete to win medals at the tournament, and Vietnam's first medal at an Asian Swimming Championship.
Vien revealed her talent after winning six gold, three silver and two bronze medals, and broke two Southeast Asian records at a regional swimming championship in June 2011.
She then brought home two silver medals at the 26th Southeast Asian (SEA) Games in Indonesia.
In 2012, the young athlete took five gold medals at the 2012 Southeast Asian Swimming Championship held in Singapore in June, and participated in the London 2012 Olympic Games. However, Vien did not perform well there.
Vien and her teammate Hoang Quy Phuoc are among young talents under a special training program to prepare for the upcoming 17th Asian Games in South Korea (ASIAD).