Martial artist Nguyen Trong Cuong won the first gold medal for the Vietnamese team at the Asian Taekwondo Championships in Ho Chi Minh City on May 11.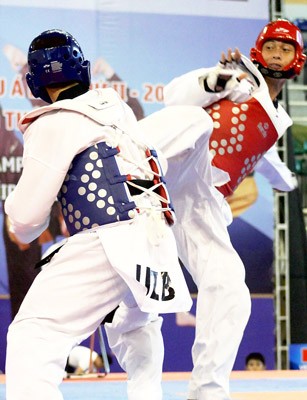 Nguyen Trong Cuong (R) wins gold medal at the Asian Taekwondo Championships (Photo:SGGP)
In the men's 87kg category, Cuong made it to the final round after two opponents withdrew from the tournament. He defeated Baykuziyev Jasur of Uzbekistan 5-4 in extra time, to win the gold medal.

Earlier, Nguyen Thanh Thao won a bronze medal in the women's 62kg event when she defeated Manalo Mariacami from the Philippines 5-2 to reach the semi-finals. However, she was thrashed 1-13 by Chia Chia Chuang from Taiwan (China), earning Vietnam's only medal on the second day of the tournament.

The host team ranked at fourth place and the women's team ranked at sixth place.

The 2012 Asian Taekwondo Championships took place in HCMC from May 4 to 11.
The week-long event included two Taekwondo performance competitions on May 4-5, a Taekwondo junior combat competition from May 6-8, and the championship competition from May 9 to 11.