Vietnamese swimmer Nguyen Thi Anh Vien excellently won one gold, one silver and one bronze medals at the 2015 Military World Games in the Republic of Korea, helping Vietnam rank the 31st position.
The 2015 Military World Games officially closed yesterday. As the final result, Vietnam sport delegation grabbed one gold, one silver and two bronze medals.
The best achievement of Vietnam was the gold medal from Anh Vien in the women's 200 meters medley individual.
Earlier, Anh Vien pocked a silver and bronze medal in the women's 200 meters backstroke and 800 meters freestyle competition. Another bronze medal went to the women's volleyball team.
Vietnamese sport delegation registered six subjects at the sixth Military World Games, including judo, taekwondo, boxing, swimming, volleyball and shooting competition.
After closing ceremony, Vietnam sport delegation will return their hometown on Monday.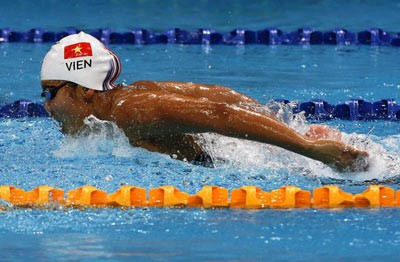 Anh Vien wins three medals at Military World Games 2015. (Photo: SGGP)