Vietnam Sports Delegation had a successful competition day with six more gold medals in Judo, athletics, Taekwondo and Kempo on December 18.
Vietnam sports delegation named at the second list with achievement of 54 gold medals, 52 silver medals and 60 bronze medals after Thailand.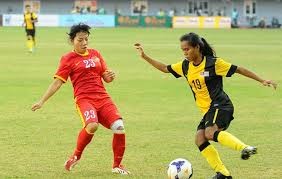 The women football match between Vietnam and Malaysia
According to the latest news, Vietnamese women football team trounced 4 – 0 against Malaysia in the first semi-finals with goals from Minh Nguyet, Tuyet Dung and Huynh Nhu.  Double goals of Minh Nguyet were scored in the 11th and 63rd minute. Accordingly, Vietnam will attend in the final round at 8pm on December 20.
In Judo, athlete Huynh Nhat Thong grabbed a gold medal in 55kg weight category after beating Kap Cin Pau from Myanmar.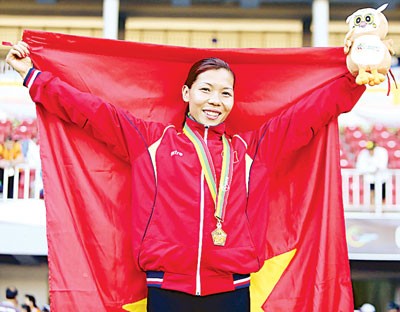 'Queen of Speed' - Vu Thi Huong harvests one more gold medal in 200 meters athletics.
On the same day, athletic athletes also had a successful performance day. Particularly, Vu Thi Huong called 'Queen of Speed' continued to harvest one more gold medal with achievement of 23 seconds in 200 meters athletics.
Earlier, Vu Thi Huong also won a gold medal in the women's 100m athletics. In the same category, Nguyen Thi Oanh was given a bronze medal for Vietnam.
In the men's high jump category, 2 meters 13 was an achievement of athlete Dao Van Thuy. Dao Van Thuy only was second-ranked athlete after Malaysia athlete Nauraj Singh Randhawa with a victory of 2 minutes 17. So, Vietnamese athlete only brought a silver medal for Vietnam.
In the men's and women's 3000m jump over obstacle category, Nguyen Thi Oanh and Pham Tien San grabbed two silver medals for Vietnam after losing Philippines athlete.
Athlete Bui Thi Thu Thao also harvested one more bronze medal with achievements of 6 meters 14 in women's long jump. The gold medal belonged to the Indonesian athletes.
In the men's volleyball, Vietnam team will meet Thailand in the semi-finals.
In the women's Futsal, Vietnam drew Malaysia with result of 3-3 that means Vietnam will meet Thailand in the final round.
In cycling, racer Mai Nguyen Hung won a silver medal in the individual cycling category.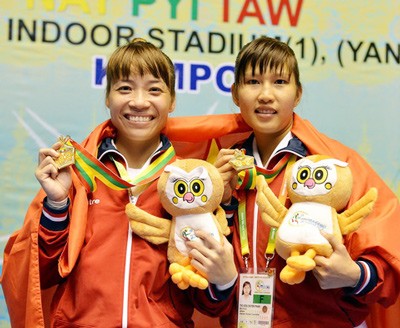 Pham Thi Mao and Phan Thi Kieu Duyen grabbed the first Kempo gold medal
With Kempo, Pham Thi Mao and Phan Thi Kieu Duyen won one gold medal in the team competition.
On the same day, Taekwondo grabbed three more gold medals for Vietnam Sports Delegation on the first Taekwondo competition of day. Particularly, three athletes included Nguyen Thi Le Kim, Nguyen Thi Thu Ngan and Chau Tuyet Van won a gold medal for Vietnam with 7.95 points in the women's Taekwondo.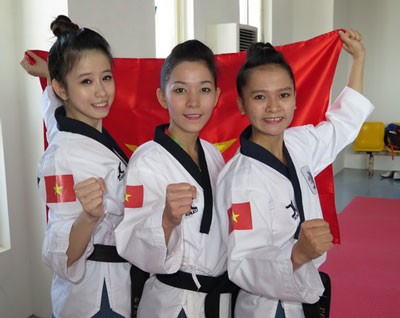 Nguyen Thi Le Kim, Nguyen Thi Thu Ngan and Chau Tuyet Van win a gold medal for Vietnam in the women's Taekwondo