The women's football team of Vietnam beat hosts Laos 3-0 Sunday in the 25th Southeast Asian Games to play the final against defending champions Thailand. Myanmar took the bronze after crushing Malaysia 7-1.
The defending champions will compete with Vietnam for the gold also at the Chao Anouvong Stadium in Vientiane on Dec. 16. In the 2007 SEA Games in Thailand, the hosts defeated Vietnam in the final. A final between the two teams will take place again.
In the 2009 Games, five teams – Laos, Malaysia, Myanmar, Thailand and Vietnam – played on a round-robin format to identify the last two.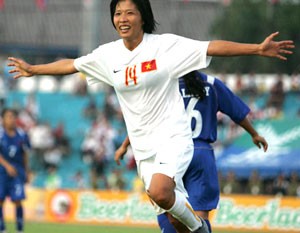 Doan Thi Kim Chi celebrates after scoring the third goal for Vietnam in the game against hosts Laos at Chao Anouvong Stadium Dec. 13 (Photo: VNExpress)
Both Vietnam and Thailand finished with eight points after two wins and two draws each. Myanmar came third with three draws and one wins, followed by hosts Laos, who won one, drew one and lost two games. Malaysia were at the bottom after all four losses.
Malaysia went down 1-7 to Myanmar Sunday after Vietnam beat Laos 3-0. In the earlier game, Kim Hong fired for Vietnam with a penalty in the 15th minute after her teammate Nguyen Thi Muon was struck down in the penalty box.
The hosts bounced back strongly with the hope of reaching to the final via a win. Vietnam, the 2007 Games silver medalists, had to reinforce their defending, but saw more chances as Laos played higher.
Unable to equalize in the first half, the hosts kept playing high after the break. Vietnam did not lose their concentration and in the 73rd minute, again, midfielder Nguyen Thi Muon brought another chance to Kim Hong. The ball from Muon put Hong into an unchallenged position and the latter converted it into her second goal.
In the 84th minute, experienced Doan Thi Kim Chi, who had been the Vietnam captain for years, finished the game at 3-0 with a header in a 50-50 competition against the Lao goalkeeper.
In the men's football, the last four are hosts Laos, Malaysia, Singapore and Vietnam. Defending champions Thailand were out of the semifinals already after eight SEA Games editions in a row reaching to the final.