The third qualification round for the 2016 Olympics Asian women's football tournament was officially opened in Osaka, Japan yesterday evening with the prime match between Vietnam and China.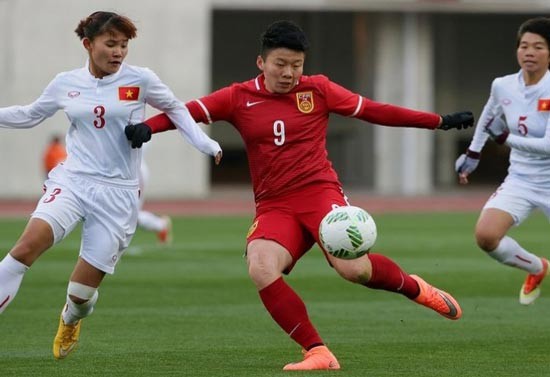 Vietnamese team wears white T-shirt.
Although white T-shirt football players tried to play harder and goalkeeper Kieu Trinh also tried to flung ball out damaged zone, the defenders defeated Vietnamese team with a victory of 0- 2.
China missed a 51st minute penalty as goalkeeper Kieu Trinh successfully flung ball out from Li Dongna's shooting.
In the 57th minute, Gu Yasha attackers opened the scoring for China. In the 63rd minute, Zhang Rui successfully shot a penalty kick.
As scheduled, Vietnam team will face to Australia on March 2.