A ten-year-old Vietnamese boy won the World Youth Chess Championship in Maribor in Slovenia on November 18, after securing a victory in the 10th round against another young Indian contender.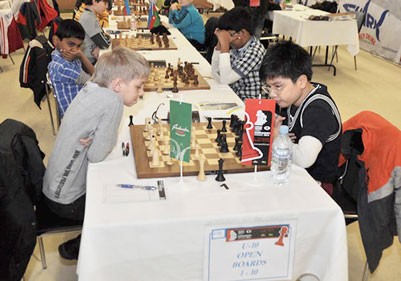 Anh Khoi (R), playing with a rival at the event (Photo: SGGP)
Nguyen Anh Khoi beat Indian contender Ram Arvind in the 10th round at the event. After the tenth round, he grabbed the title in his last game, as he already had 1.5 standing points above the second ranked player.
The World Youth Chess Championship was held in Maribor from November 7 to 19 with the participation of 1,584 players who competed in the men's and women's U-8, 10, 12, 14, 16, and 18 events.
Vietnamese team included 12 chess players and Anh Khoi, ranked 13th- seeded player in the group of men's U-10, yet he had the most impressive performance at the event.
The 10-year-old winner defeated strong players from powerful chess nations including Russia, Serbia, Iran, Armenia, and Azerbaijan to achieve ten outstanding victories in a row.
This is the sixth time a Vietnamese chess player has topped the world youth championship. The previous champions include Dao Thien Hai (World U-16 champion in 1993); Nguyen Thi Dung (U-12, 1994); Nguyen Ngoc Truong Son (U-10, 2000); Le Quang Liem (U-14 2005); and Tran Minh Thang (U-8, 2008).