Vietnamese cyclists left for Singapore on June 8 with the aim of winning two gold medals at the 28th Southeast Asian Games.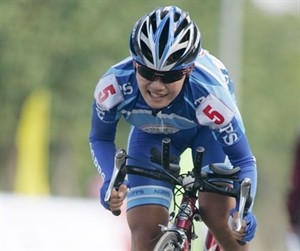 Cyclist Nguyen Thi That is Viet Nam's gold medal hope at the 28th SEA Games in Singapore (Photo: thethaohcm.vn)
It will not be an easy task for the team, but they would try their best to bring home gold medals, according to coach Nguyen Huy Hung.
Vietnam will send eight cyclists to compete in the women's and men's individual time trial, and road race.
Trinh Duc Tam, Mai Nguyen Hung and Nguyen Thi That are candidates for gold medals in the road race and time trial events.
At the 2013 Games in Myanmar, Tam, alongside Le Van Duan, Nguyen Thanh Tam and Hung, came in first for the team time trial category and fourth for the team road race.
Subsequently, he won a silver medal at the 2013 Asian Cycling Championships in India. In 2014, the 22-year-old cyclist was crowned the leading cyclist in Vietnam, after his gold medal finish at the national championships.
The Vietnamese team also participated in the 2015 Asian Cycling Championship held in Thailand, where Tam was the fastest Vietnamese cyclist in the competition.
The 27-year-old Hung won a silver in the men's road race at the Myanmar Games. He will have to beat 50 rivals in his category this year to upgrade his medal.
Vietnam's other gold medal hope, Nguyen Thi That, won a bronze medal in the women's cross country at the Games two years ago, and a silver medal in the road race at the 17th Asian Games in Incheon, the Republic of Korea last year.
"That is the most experienced female cyclist in Vietnam at present. She is in good shape and is one of Vietnam's medal hopes in Singapore," said women's coach Ngo Quoc Tien.
"Vietnam's key rivals will be Singapore and Thailand, who have prepared carefully for the Games. Thailand's Jutalip Maneephan beat That at the Asian Games last year, while Singapore have the advantage of being the hosts," Tien added.
In preparation for the Games, the team trained at home and abroad for the HCM City Television Cup Cycling Tournament in April and an Asian event in February.
"Our Vietnamese athletes gained good physical strength at the events. They can also adapt themselves to different types of climate so they can maintain their fitness," said Hung.
All cycling events will take place along the picturesque Marina Bay South waterfront on June 11-15, with free admission for the public.