Vietnam's fencer Nguyen Tien Nhat has earned a berth at the coming London Olympics after cruising into the finals of the Asian Games qualifying round in Japan on April.
As fencing is not a popular sport in Vietnam, this news has surprised the Vietnamese sports community. Tien Nhat defeated several sportsmen from many countries, where fencing has been an established sport for years.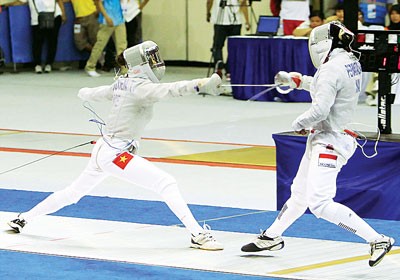 Nguyen Tien Nhat (L) in a match against a foreign rival
Tien Nhat made it through to the finals, to qualify for the upcoming Olympic Games in London after taking second place in the men's epee event at the Asian Zone Olympics qualifying round in Japan in late April.
In the men's epee event, which saw tough competition among the 14 most outstanding fencers from Asia, Nhat trounced a rival from New Zealand to enter the quarter-finals where he ran into famous fencer Nishida Shogo from Japan.
Tien Nhat trounced Japan's Nishida Shogo by a score of 15-13 in the quarter-finals before thrashing Leung Ka Ming from Hong Kong 15-10 in the semi-finals, to advance to the decisive round.
However, the Vietnamese athlete lost 7-15 to Ruslan Kudayev from Uzbekistan in the finals.
Nhat, 22, who practiced fencing for seven years is a rising star in Ho Chi Minh City's fencing team. His talent was discovered by teacher Nguyen Thi Kim Nga. He then won a gold medal in the 2011 national fencing championship and bagged two silver medals at the 26th SEA Games in the men's epee event.
Despite losing 7-15 to Uzbekistan's Kudayev Ruslan in the finals, Tien Nhat still secured an official Olympic ticket that is awarded to the top three fencers in this category.
Tien Nhat is the eleventh Vietnamese athlete to qualify for the world's biggest sporting event in London this summer after Pham Phuoc Hung, Phan Thi Ha Thanh and Do Thi Ngan Thuong (gymnastics); Le Huynh Chau and Chu Hoang Dieu Linh (taekwondo); Nguyen Tien Minh (badminton); Hoang Xuan Vinh and Le Thi Hoang Ngoc (shooting); Van Ngoc Tu (judo); and Nguyen Thi Thanh Phuc (track and field).