Leading Vietnamese fencers Vu Thanh An and Nguyen Thi Le Dung are in the Republic of Korea for the Fencing Grand Prix Sabre.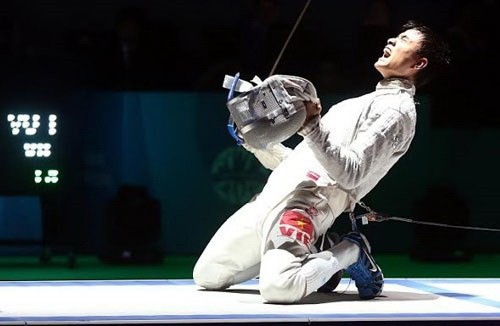 Vu Thanh An hopes to earn points from Korean Fencing Grand Prix Sabre to earn a spot in the Olympics. (Photo: Ha Noi Moi)
An is ranked world number 47 in men's fencing. Dung is ranked world number 48 in women's fencing. Both expect to win more points to qualify for the Rio de Janeiro Olympics this summer.
There are more than 130 athletes competing at this event to pick up one of the remaining zonal allocations – two each for Asia, Europe and PanAm; plus one for Africa. Competitors are divided in different groups.
Dung is competing against 120 sabreurs. Dung is in group number 6, where she has six rivals. She is seeded number 2, after O.Voronia of Ukraine.
An is in group number 13, where he has seven rivals. He is seeded number 2, after E. Berre of Italy.-VNA