U19 Vietnamese men's football team won 4-0 against U21 Singapore team at the 2014 Hassanal Bolkiah Cup in Brunei yesterday.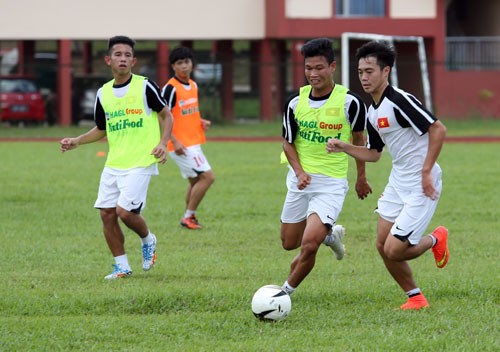 (Photo:SGGP)
Four goals were scored by Cong Phuong, Van Toan and Tuan Tai. Football player Tuan Tai alone scored two goals for Vietnamese team.


Before the match, Singapore football players were appreciated higher than Vietnamese team due to they have the tactical standard and be able to controll ball well.


In the first half, Vietnamese team was in the led Singapore with the victory of Tuan Tai.


By the second half, Tuan Tai, Cong Phuong and Van Toan continued beating again Singapore team's goalkeeper to score three consecutive goals.


Vietnamese team topped in group B of men's football match at the 2014 Hassanal Bolkiah Cup.


U19 Vietnamese football team will meet Malaysia in the next competition at 8:15 on August 11.

The 2014 Hassanal Bolkiah Cup was hosted in Brunei from August 8-23.