Members of the Vietnamese football team will attend a training course on September 5, to prepare for the upcoming Sea Games at the end of this year in Myanmar.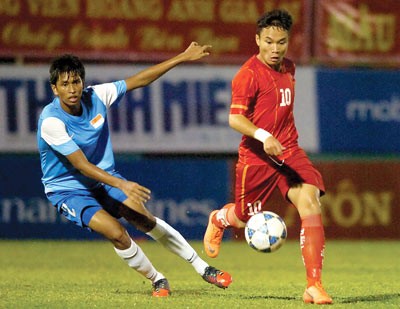 Vietnam football players in Sea Games 2012.
Southeast Asian Games, known as Sea Games, are a multimedia sports event with participation of countries from the Southeast Asian region.
Because almost all the football players are playing in the top clubs and some players are playing in the V-League, total 25 members of the football team will attend the training on September 5.
Vietnam team will be represented by many football players from famous clubs, including Mac Hong Quan, Ha Minh Tuan, Van Thang, Van Quyet and Manh Dung.
Because the Vietnamese players are young, experience and training is vital. From now until the opening day of the SEA Games, Coach Hoang Van Phuc will carry out three important training sessions for the players.
The first training session will take place in Hungary in a friendship football competition between Vietnam and Hungary from September 11-23.
Later, the Vietnamese team will have two friendship competition matches with Galatasaray Club (Turkey) and Santos Club (Brazil) on September 27 and 29 at Thong Nhat Stadium.
The third training session will take place in late October; when the Vietnamese team will participate in the BTV Cup in Binh Duong with four foreign clubs and three famous clubs of the V-League.