After three consecutive landslide victories and one loss in the Proton Malaysia Open (PMO) 2008, Vietnamese badminton player Nguyen Tien Minh received 1,020 points to boost his position up to the 38th on the Badminton World Federation (BWF) Ranking.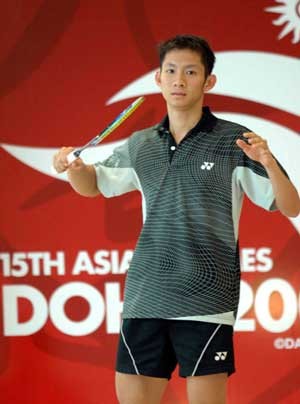 Nguyen Tien Minh.
Since PMO is among the most prestigious competitions organized by BWF, its bonus points for players are mostly much higher than other competitions, this time raising Minh to the highest ranking he ever gained, up 4 notches over last year.
He reached #39 last June but soon dropped down to #42 at year-end.
Recently, Minh had many opportunities to compete against some high-ranking competitors and pocketed both victories and losses, including gaining victories over tenth world seed Taufik Hidayat and fifteenth Shoji Sato but suffering losses to two top ten competitors, third world seed Chen Hong and eighth Kenneth Jonassen.
The Ho Chi Minh City Badminton Federation (HBF) already proposed hiring the previous number one world seed Supianto as the main coach for Minh aiming at helping him earn an entrance ticket to the Beijing Olympic 2008 and also enter the top 20.
However, the contract has not been signed yet since the Indonesian champion demanded a high monthly salary of US$4,500, an HBF official affirmed.
Although HCMC Sports Department has pledged US$2,500 a month, HBF is finding other sponsors for the balance.
His female teammate, Le Ngoc Nguyen Nhung also stepped up three levels from #92 to #89 in January.

Related articles: 
Vietnamese Bows Out in Malaysia Badminton Contest
Vietnamese Wins All Three Qualifying Matches for Proton Malaysia Open
Nguyen Tien Minh at Qualifiers in Malaysia for Badminton's PMO 2008