Two female Vietnamese runners Vu Thi Huong and Le Ngoc Phuong performed well on November 21 to qualify for the semi-finals at the 16th Asian Games.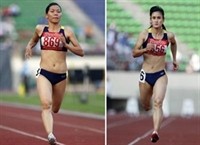 Vu Thi Huong (L) and Le Ngoc Phuong
Vu Thi Huong came first in Group 1 of the women's 100m event, with a time of 11.56 seconds, while Le Ngoc Phuong took the lead in Group 4 with 11.85 seconds.

Vu Thi Huong is considered Vietnam's hope for gold.

The semi-finals will be run today with the two Vietnamese athletes, making their ASIAD debuts this year, providing hope for their managers of bringing home a medal.
Huong, the Asian Games indoor champion, is now one of the favourites for the event. At last December's SEA Games, she set a personal best of 11.34sec.
Her strongest rivals will be Fukushima Chisato of Japan with a personal best of 11.21sec and defending champion Guzel Khubbieva of Uzbekistan who ran 11.54 sec yesterday.
At the previous ASIAD in Qatar, Huong finished fourth with a time of 11.59sec.
Vietnamese Track and Field Department managers have decided to award big bonuses for athletes who bring home a medal.
In individual events, a bonus of VND50-40-30 million will be awarded to gold-silver-bronze medallists while a record bonus of VND100 million (US$5,000) will be awarded to winners of a team gold, with VND75 million and VND50 million respectively, for silver and bronze medallists.
Vietnamese boxer Nguyen Thi Tuyet Mai started the women's 48-51kg category by beating Macao's Mak Kit I 7-1 yesterday at the Foshan Gymnasium. Mai will meet Shymmoto Aya of Japan today.
Viet Nam's quartet Le Quang Liem, Nguyen Ngoc Truong Son, Cao Sang and Nguyen Duc Hoa drew 2-2 with Uzbekistan in the fourth round of the men's team chess event while the women lost 1.5-2.5 to India.
With 11 silver and 11 bronze medals, Viet Nam have dropped to 22nd place in the medals table.
Related articles: