Vietnamese shoot team on November 15 won three more medals on the third days of the 16th Asian Game (ASIAD), helping the country rank the 14th place.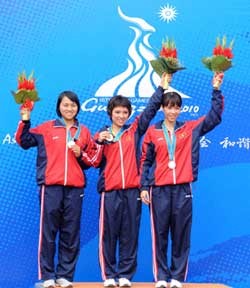 Dang Hong Ha (centre) and her teammates Cu Thi Thanh Tu and Nguyen Thu Hang celebrate after winning a silver medal in the 10m air rifle mobile target team event at the Asian Games in Guangzhou, China, yesterday. (Photo:VNA)
Sharpshooters Dang Hong Ha, Cu Thi Thanh Tu and Nguyen Thi Hang bagged the silver medal in the women's 10m mobile target air rifle team event at the ASIAD.
The trio accumulated a total of 1,084 points to finish second, 62 points behind China.
North Korea came third with 1,068 points.
In the men's 25 meter individual rapid fire pistol, Ha Minh Thanh took a silver medal as he lost Chinese shooter Li Yuehong in the final 10 shots with 196.7 points, 3.1 points lower than Li's achievement.
In the team event, Ha Minh Thanh and his teammates, Bui Quang Nam and Pham Anh Dat also bagged a bronze medal with a total of 1,718 points.
In wushu, Pham Quoc Khanh took the bronze in the men's all-around nanquan (ultimate fist) and nangun (rod play) with a total 19.33 points in the men's taolu (performance) event on the same day.
In addition, wushu artist Phan Van Hau in the men's 56kg category, Tan Thi Ly in women's 60kg category, Vuong Dinh Khanh in the men's 70kg, Nguyen Minh Thong in the men's 60kg and Nguyen Van Tuan in the men's 65kg entered the semi-final.
In chess, International Grand Master (IGM) Le Quang Liem gained 5.5 points to take the lead in the men's individual chess tournament at the Asian Games.
Liem won five matches including two wins over the Asian Games' defending champion Murtas Kazhgaleyev of Kazakhstan, Chinese Bu Xiangzhi.
He will meet Sasikiran of India on November 16.
China has bagged 54 gold medals, helping the country maintain its first place in the 16th ASIAD. Korea ranks the second place with 18 gold medals and Japan ranks the third place with 13 gold medals.
Vietnam has bagged five medals, including two silvers and three bronzes.

Related article: