Vietnamese athletes have won 140 medals, including 62 gold, 43 silver and 35 bronze, in 25 international tournaments during the first three months of this year, said the General Department of Sports and Physical Training.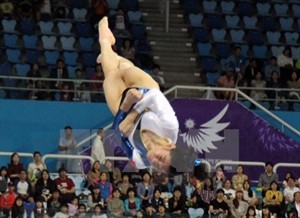 Phan Thi Ha Thanh of Vietnam won the gold medal 8th FIG Artistic Gymnastics Challenge Cup in Qatar on March 28. (Photo: VNA)
At the World Pencak Silat Championship, the Vietnamese delegation ranked second among 38 countries and territories with seven gold, five silver and five bronze medals.
Vietnamese athletes also took home a gold and silver medal in the gymnastics tournament World Challenge Cup and eight gold, four silver and four bronze medals in the Asian boat racing championship.
At the Southeast Asian Taekwondo Championship, the Vietnamese delegation claimed first place by bagging 46 gold, 29 silver and 19 bronze medals.
Vietnamese sports have conducted a number of activities in the first quarter to celebrate national holidays, including the "Olympic Run for Public Health" which drew the participation of nearly 4 million people nationwide.
In the second quarter, the sector will focus on the SEA Games 28 in Singapore and the Olympic 2016 qualifiers and prepare for the Asian Beach Games 5 (ABG 5) to be held in Nha Trang city from September 24 to October 3.