Vu Thi Huong of Vietnam won a gold medal in the women's 100m dash at the 76th Singapore Open Track and Field Championships on August 24.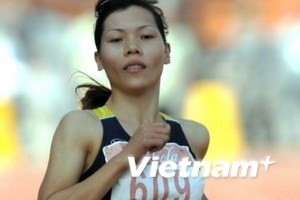 Queen of speed Vu Thi Huong (Source : VNA)
It was the second gold in Singapore for Huong, who won in the 200m event a day earlier.
The Vietnamese clocked 11.85 seconds to take the medal. Pereira Shanti Ve of Singapore came in second while Seko Nodoka of Japan finished third.
Her teammate Tran Hue Hoa also snatched a gold medal in the women's triple jump with a result of 13.80m. The runners-up were Bae Chanmi of the Republic of Korea and Yamane Mei of Japan.
Pham Thi Diem likewise carried off a gold medal in the women's high jump event with a 1.79m leap, besting rivals Han Da Rye of the RoK and Suat Li Michelle of Singapore, who both jumped 1.76m.
Vietnam also grabbed two bronze medals, one by Nguyen Xuan Truong in the men's 800m event and the other by Tran Thi Tham in the women's javelin event.