Swimmer Nguyen Thi Anh Vien of Vietnam on August 17 won a gold medal at the second Youth Olympic Games in Nanjing city, China.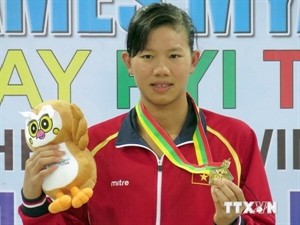 Swimmer Nguyen Thi Anh Vien (Photo: VNA)
Vien came in first in the women's 200m individual medley category, with a time of 2min 12.66sec, setting a new record for the Games.
The old record of 2:14.53 was set by Kaitlyn Jones of the US four year ago in Singapore.
Siobhan Bernad Haughey of Hong Kong took the silver, just 0.55sec behind, and Meghan Small of the US won the bronze medal.
Vien, 17, earlier finished second (2:16.02) in the fourth heat of the qualifying round, then booked her place in the final, which saw her ranked sixth among the eight best athletes.
However, the Vietnamese surprised all with a strong splash in the final, creating a larger distance from her rivals after every 50m-lap.
Vien also made national history as the first-ever swimmer winning at the Youth Olympics, setting a new national and Southeast Asian Games' record.
"I am so happy. I just swam, swam, swam and I won. That's all," Vien was quoted as saying on nanjing2014.org.
In the upcoming days, Vien will compete in eight other events, among them the 400m and 800m freestyle, which are her strongest events.
The Vietnam team also pocketed one silver medal in the men's 56kg category in weightlifting.
Nguyen Tran Anh Tuan failed to defend Vietnam's gold medal won in the last Games.
He suffered a stretched ligament prior to the competition, causing his poor performance of 243kg. This placed him in second position, behind Chinese Meng Cheng, who lifted 283kg.
With one gold and one silver from the first day of competition, Vietnam has successfully reached its target.
The 13-day Games opened in wet Nanjing on August 16 with the participation of 3,800 athletes from 204 countries competing in 28 sports.-VNA