Particularly, swimmer Nguyen Huy Hoang brought the victory of 3 minutes 49.08 seconds in the men's 400- meter-freestyle event, meanwhile, Anh Vien bagged the gold medal with a result of 2 minutes 15.51 seconds in the women's 200m individual medley as expected.
With the achievement, Huy Hoang broke SEA Games record as he beat recent achievement of Malaysian athlete Welson Sim in SEA Games 2017.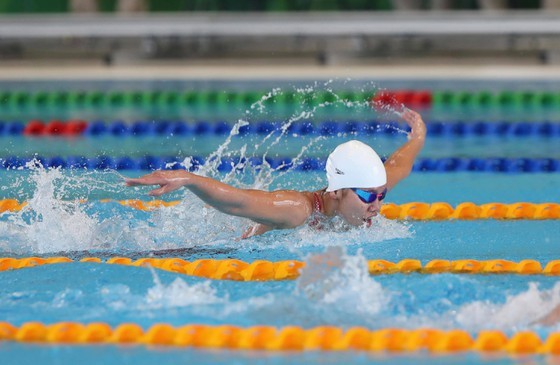 Swimmer Anh Vien in the women's 200m individual medley. (Photo: DUNG PHUONG)
At the SEA Games 2019, Huy Hoang registered competition in the men's 400 m and 1,500 m freestyle events.
Additionally, Vietnam had two additional silver and one bronze medals thanks to swimmers Le Nguyen Paul, Pham Thanh Bao and Le Thi My Thao.