Four female members of the national swimming team will spend one day only, this coming Friday, participating in the World Aquatics Championships in Melbourne, Australia.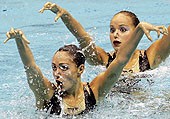 Synchronized swimmers from Russia
They are Phan Thi Hanh, Hoang Thi Cuc, Tran Thi Thuan and Pham Thi Thuan. The male members of the team - Nguyen Thanh Hai, Nguyen Huu Viet and Do Duy Long – cannot go as they are still training in China.
The idea of going to Melbourne is to get the women acclimatized to the intensity of top-flight competition and prepare them for the next Southeast Asian Games in Thailand.
Top swimmers from around the world are vying for honors in the 12th FINA championships, which began on Saturday and feature pool and open water racing, diving, water polo and synchronized swimming.