Leading swimmers of Vietnam are set to undertake a training trip in the US starting early 2012.
The Vietnamese athletes will take training sessions at Bolles School in Florida, where Singaporean swimmer Joseph Schooling is undertaking training. He won a gold in the men's 200 meter butterfly event in the 2011 Southeast Asian Games in Indonesia November.
The Vietnamese athletes include No.1 swimmer Hoang Quy Phuoc of Danang City and Nguyen Thi Anh Vien, who also won medals in the 2011 SEA Games. The others include Kim Tuyen, Thai Nguyen and Thanh Nguyen.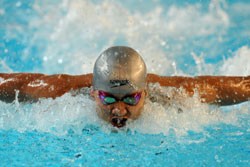 File photo shows Hoang Quy Phuoc competing in the butterfly category in a tournament in Vietnam
Phuoc, 18, won gold medals in the men's 100m freestyle and the 100m butterfly and set a new SEA Games record of 53.07 seconds in the men's 100m butterfly. He is expected to perform well at the 2012 London Olympics.
Vien, 15, won a silver medal in the women's 400m medley and a bronze medal in the 200m backstroke at the SEA Games.
The US training trip is expected to be good preparation for the two swimmers ahead of the 2012 Olympics.