Vietnam lost 0-1 to Syria in their 2011 Asian Cup qualifier in Hanoi on Saturday evening, facing a very high hill to climb in their group, which includes powerhouse China.
Vietnam's Portuguese coach Henrique Calisto and his players did not intend to play low later in the game at the My Dinh National Stadium when they could not remain in good fitness against their stronger opponents from the Middle East. In the 93rd minute, captain Nguyen Minh Phuong could not reach to touch the ball from a low cross during an attack by the home side.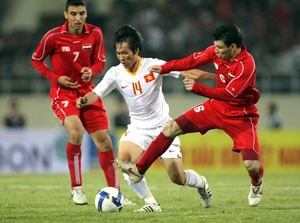 Vietnam midfielder Le Tan Tai (C) fights for the ball with a Syria player at My Dinh Stadium on Nov. 14. Syria won 1-0. (Photo: SGGP)
Right after the hosts' missing chance, substitute Raja Rafe gave Syria a 1-0 win with an unchallenged header in the 94th minute. Weakening central defenders Vu Nhu Thanh and Le Phuoc Tu did not concentrate enough, leaving Rafe free. The final whistle came just after the only goal.
Syria's win gave them nine points after three games and the top position in Group D, but left Vietnam in the third place with three points. China are in second with six points while Lebanon have no points.
Inspired by about 30,000 fans at My Dinh Stadium on Saturday evening, the hosts came close to the opposite goal immediately. Vietnam come closest in the first half when captain Phuong struck the post in the 14th minute.
Vietnam's Portugal-based striker Le Cong Vinh and forward Nguyen Viet Thang made lots of efforts towards Syria's defending so that the Vietnamese midfielders could get more space to play. It was the midfielders who brought about chances but none were converted. 
Meanwhile, the West Asians developed attacks from both wings and crossed the ball towards their taller strikers. Vietnam goalie Duong Hong Son had to work hard against the high balls. Son made at least four or five excellent saves until the final minute of the game, and then unchallenged Rafe beat him with a header.
Vietnam coach Calisto said after the match that Australian referee Benjamin Williams ignored two Syria situations that were worth penalties for the home side.
Vietnam left Hanoi Sunday for Syria for the second leg.
In the 2007 Asian Cup, Vietnam were among the last eight.
Position and points in group D
1: Syria  9  
2: China  6  
3: Vietnam  3   
4: Lebanon  0