Hoang Xuan Vinh competed outstandingly to grab a gold medal in the Asian Airgun Championships in China on Sunday ( Dec 16).
He scored 100.3 points in the men's 10m air pistol.
Hoang Xuan Vinh
The hosts' athletes Mai Jiajie and Shi Xinglong won silver and bronze medal respectively
In related news, Vietnam's athlete Phan Thi Ha Thanh has won a gold and a bronze medal at a tournament in Tokyo, Japan.
Ha Thanh on December 15 won a gold medal in the women's vault with an impressive performance at the 2012 Toyota International Gymnastics Competition.
This was the second time the Vietnamese athlete had taken the gold medal in her favorite Vault sport at the Toyota Cup held annually in Tokyo, Japan.
Ha Thanh who born in 1991 in northern Haiphong city got a total of 14,925 points, outplaying her rivals from Japan, Germany, and Hong Kong ( China ), and became top the vaulting table.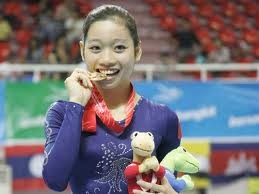 Ha Thanh
Thanh also scored 12,950 points, bagging home a bronze medal in the Balance Beam performance.
2012 is a successful year for Ha Thanh who snatched a gold medal at the fifth Asian Artistic Gymnastics Championships held in China in November.
The Vietnamese athlete won a bronze medal at the 2011 World Artistic Gymnastics Championships in Tokyo. She dominated the 26th Southeast Asian Games in Indonesia, carrying off three gold medals, and earning her a berth at the 2012 London Olympics Games.