Both the men's and the women's Futsal teams missed out on winning gold medals after losing to Thailand 1-8 on December 20, grabbing only two silver medals instead.
According to the latest news, Taekwondo, Vovinam, Judo and Futsal grabbed two more gold medals and 11 silver medals to rank Vietnam third in the medals tally at the 27th SEA Games.
Vietnam now has 66 gold medals, 71 silver medals and 73 bronze medals and ranks third after Thailand with 86 gold medals and host country Myanmar with 69 gold medals.
Accordingly, Vietnamese Vivonam athletes won two gold medals and two silver medals. In the men's 63 kilogram Taekwondo, martial artist Le Huynh Chau won a gold medal after defeating Malaysian athlete Ryan with 6-1.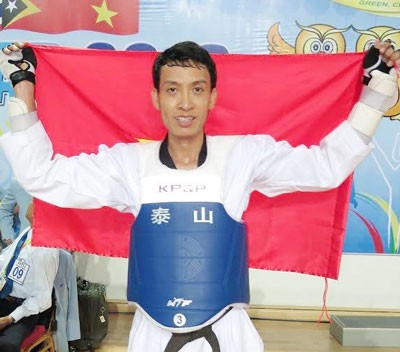 Martial artist Le Huynh Chau wins a gold medal in Taekwondo (Photo:SGGP)
The other athletes namely Le Huynh Chau, Huong Giang, Nguyen Thanh Thao had a successful day after beating competitors in the Taekwondo finals.
On the same day, Vietnam's Judo team also reaped one more silver and bronze medal, scored by athletes Nguyen Tan Cong and Bui Thi Hoa.
Also in Kempo, eight members of the Vietnamese Kempo team including Le Thi Thu Hang, Le Duong Lan Phuong, Nguyen Thanh Bao Mi, Pham Thi Mao, Phan Thi Kieu Duyen, Tran Thi My Duyen, Le Hoang Dieu and Nguyen Thuy Duong brought in a silver medal for Vietnam.