Vietnamese sepaktakraw and karate bought home two more silver on the 12th day of the competition in Guangzhou, China, on November 24, but it was not enough to satisfy Vietnam's desire for their first gold medal at the 16th Asian Game (ASIAD).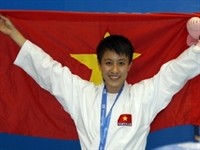 Vu Thi Nguyet Anh grabbed a silver medal in the women's U-50kg division at the Asian Games yesterday. (Photo:VNA)
Vietnamese karate martial artist Vu Thi Nguyet Anh scored a silver after defeating opponents from Iran, Taipei (China) and Korea to take part in the final match of her division at the ASIAD yesterday.
Defending champion Anh failed to keep her karate title in the women's under-50kg class after losing 0-2 to host rival Li Hong in the final clash.
Valentina Velena of India and Yasina Torrattanawathana of Thailand each walked away with bronze.
Vietnamese defending champion lost their crown in the sepaktakraw final match after a 15-21, 21-14, 11-15 defeat to Thailand, which is known as the world's strongest competitors.
Sepaktakraw was one of Viet Nam's highest hopes for Asian Games gold, but as with several other sports, they failed to reach their target.
Before leaving for Guangzhou, the Viet Nam sport delegation set a target of winning four to six golds to put them within the world's top 20 strongest countries. But now that the Games are only three days away from over and most of Viet Nam's strongest athletes have already finished with their competitions, the target seems far out of reach.
Southeast Asia's fastest woman, Vu Thi Huong, won a berth in the 200m final with a time of 24.05sec in yesterday's semis.
Huong's teammate Truong Thanh Hang will kick off her second final competition later this afternoon in the women's 800m event.
Hang, who won silver on Tuesday in the 1,500m, is expected to reach even higher in the 800m as she has practised a lot for this event.
She will face Magarita Matsko of Kazakhstan, Tintu Lukka from India and Bahrain's Isa Jamal Maryam Yusuf.
On the men's side, iron man Vu Van Huyen yesterday took part in five events of the men's decathlon. He earned 4,002 points to rank fourth, some 243 points less than the leading athlete.
Women's chess masters are another final hope for Viet Nam, as they entered the semi-final round with eight points after seven matches.
Karate artists will also share the heavy task of seeking gold in the final competition of the Games.
Six fighters are set to compete in the last three days of the event, including two-time SEA Games champions Bui Thi Trieu in the women's under-61kg category, Nguyen Ngoc Thanh in the men's 67kg pool and Le Bich Phuong who won a gold in the women's 55kg class at the Indonesia Open.
After 12 days of competition, Vietnam has won 14 silver and 12 bronze medals, ranking 26th in the medal tally. China still tops the rankings with 173 gold medals, followed by Korea with 73 gold medals and Japan with 38 gold medals.