Vietnam edged past Malaysia 3-2 on the second matchday of Group B of the AFF Suzuki Cup Monday to hold a good chance to make the next round of the regional championship. Meanwhile, Thailand confirmed their place in the semifinals as they crushed Laos 6-0.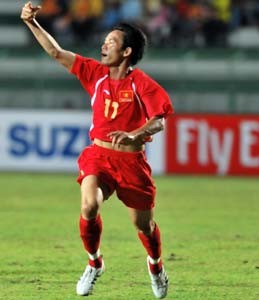 Vietnam's Nguyen Vu Phong celebrates his first goal (Photo: SGGP)
The Vietnamese, who had lost 0-2 to hosts Thailand in the first game, took the lead in the 17th minute with a far finish by Pham Thanh Luong before substitute winger Nguyen Vu Phong added a brace with goals in the 72nd and 86th minutes.

Malaysia's Indra Putra scored both goals for his team in the 20th and 84th minute, also at the Sarakul Stadium in Phuket, southern Thailand.
Both Malaysia and Thailand have to move back to Bangkok to play their game Wednesday, which takes place at the same time with the Vietnam-Laos match at the Sarakul Stadium. This game has no meaning to Laos as they already conceded two losses to Malaysia and Thailand. In addition, the Lao team are deemed to be weaker than Vietnam.
Vietnam head coach Henrique Calisto, after his team beat Malaysia just before the final whistle on Monday, said, "It was a very difficult game but it was very good to win."

Given the importance of the match, both teams started off a lot more cautious as they assess each other's parameters of strength and weakness.

The Calisto side took the lead in the 17th minute but the advantage did not last long. Indra Putra equalized just a few minutes later. A shot from Mohd Zaquan hit the crossbar, and Putra was waiting to score.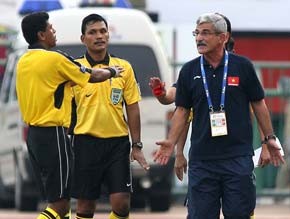 Singapore referee P. Pandian (L) sends Vietnam coach H. Calisto to the stand (Photo: SGGP)
The goal drew cries of off-side from the Vietnam bench but referee P. Pandian stood by his decision and following the incessant arguing from the Vietnam coach, duly sent the Portuguese to the stand.

Vietnam tried to play faster in the second half but Malaysia even tried harder. While Malaysia were creating several chances with striker Safee's attempt coming off the crossbar in the 71st minute, Vu Phong made an unstoppable shoot from the edge of the Malaysia box.

But Malaysia fought back in the 85th minute when Putra swerved in a free kick to put both teams on level again.

And while Malaysia were entertaining thoughts that they would at least get a point from this tie, keeper Helmi conceded a mistake two minutes later when he misjudged a lob from Vu Phong for the ball to bounce into an open goal.

"All three goals were the results of keeper mistake," said B. Sathianathan, the Malaysiahead coach.

In the later match, Thailand's second-string lineup easily blasted Laos 6-0 to go on top of group B.