Vietnam's judo star Van Ngoc Tu had to say goodbye to the 2011 Moscow Judo Grand Slam as she was defeated by a mighty competitor in the first round.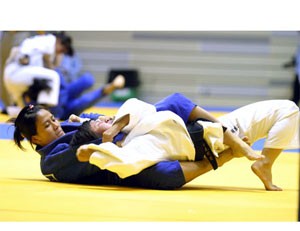 Van Ngoc Tu (blue) uses a stranglehold to knock her competitor out in the 2011 Asian Judo Championships (Photo: yenbai.gov.vn)
Ngoc Tu unfortunately met Mongolia's Munkbat Urantsetseg ranked 14th in the world with 566 points and once won her in the 2010 World Cup Women Tashkent. Although the Vietnamese judo athlete took good advantage of her techniques, she still could not beat Urantsetseg, who lost one yuko before achieving an ippon after three minutes and 52 seconds.
Despite her failure in the 2011 Moscow Judo Grand Slam, Ngoc Tu will still be provided with chances to attend the 2012 London Olympic Games when participating in some more competitions to accumulate points.
As planned, Coach Duy Hai and Ngoc Tu will take part in the Gland Slam Rio de Janeiro from June 18 to 19, 2011 World Cup São Paulo from June 25 to 26, 28th World Judo Championships in Paris from August 23rd to 28th, etc.
"In 2012, Ngoc Tu is expected to enter some big international events before the list of the London 2012 Olympic Games' participants is concluded," said Mr. Nguyen Huu An, head of Judo Department, General Directorate of Physical Education and Sports.