Nineteen-year-old Le Quang Liem has finished second in this year's Dortmund Sparkassen Chess Meeting, an elite tournament held every summer where only the strongest grandmasters are invited.
The annual event took place in Dortmund, Germany on July 15-25. It was a six-player round robin, in which each player had to play two games against each other, one with white and one with black pieces. Draw offers are not allowed – a game can only be declared a draw by the referee if there is no possible win for one side, or if a position is repeated three times.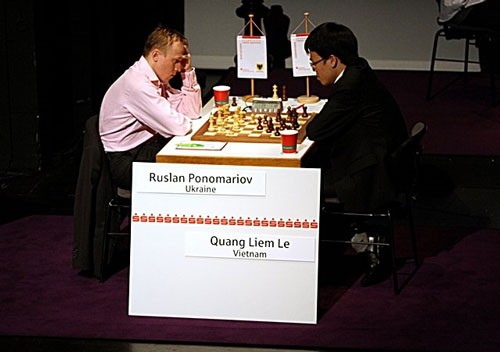 Ruslan Ponomariov vs. Le Quang Liem (R) on July 25 in Dortmund (Photo: tournament official site www.sparkassen-chess-meeting.de)
The six players were former World Chess Champion Vladimir Kramnik of Russia, who was the top seed, Shakhriyar Mamedyarov of Azerbaijan, Ruslan Ponomariov of Ukraine, Peter Leko of Hungary, Arkadij Naiditsch of Germany and Vietnam's Liem, the winner of the 2010 Aeroflot Open.

2010 Dortmund Sparkassen Chess Meeting ranking
According to the tournament's official site, Ponomariov won the tournament by a point from Liem. Kramnik came third, Mamedyarov fourth, Leko fifth and Naidtisch in last place.
Given Liem's performance, the World Chess Federation (FIDE) will add 12 points to his Elo rating for this August.