Both national and Olympic football teams of Vietnam are set to face tough challenge at qualifying rounds of the 2012 London Olympics Football Tournament and the 2014 World Cup as they will take on mighty teams from Western Asia region.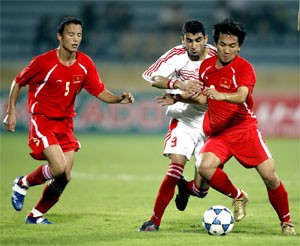 A Vietnamese defender (red) vies with a Lebanon striker in a qualifying game of the 2008 Olympic Beijing Tournament (Photo: Quang Minh)
The draw for the qualifying rounds of the 2012 London Olympics Football Tournament last week in Malaysia set the Vietnamese team to take on mighty competitors from the Western Asia – Saudi Arabia.
At the tournament in Beijing in 2008, the Vietnamese Olympic team coached by Alfred Riedl made a miracle as they beat two stronger teams including Lebanon and Oman to advance to the third round.
However, their dream was shattered later as the team drew 1-1 with Saudi Arabia at home before bowing out of the tournament due to a 0-2 defeat to the opponents in the second-leg match.
Therefore, experts worried that Olympic Vietnam will likely to say goodbye to the tournament soon.
Tran Quoc Tuan, general secretary of the Vietnam Football Federation (VFF), said the team will not give up the tournament, noticing the upcoming match is an opportunity for the team to make a good preparation for the SEA Games 26 in Indonesia on November.
According to the draw, Vietnam Olympic football squad will visit Saudi Arabia to play the first-leg game on June 19th before taking on the opponents at home seven days later.
VFF chairman Nguyen Trong Hy disclosed the federation will likely to make better preparations for the Olympic team than the national squad, who is also preparing for the 2014 World Cup.
Preparation for 2014 World Cup
The national football team of Vietnam, on the other hands, is among the three Southeast Asian teams, which will have to play the preliminary rounds of the 2014 World Cup due to their poor performance at the last tournament's qualifying round.
The other two teams are Myanmar and AFF Cup champions Malaysia.
According to the draw, the national team will take on Macau at the My Dinh Stadium in Hanoi on June 29th. The second-leg will take place on July 3rd.
Experts expect the national team will have an easy victory over Macau, who is sitting in the 181st spot on FIFA ranking table. The Vietnamese team ranks 134th. However, the national squad will have to play against the 2022 World Cup host Qatar, who drew with the Southeast Asian team in the qualifying round of the 2007 Asian Cup.
Experts said defeating the 2022 World Cup host will be a very hard mission for the national team as Qatar has drew 1-1 with France in a friendly match.