The People's Committee in Ho Chi Minh City has tasked the Department of Culture, Sports and Tourism to contact Navibank Saigon Club to resolve all existing problems relating to the ongoing controversies within the country's professional football clubs.
The Committee was considering the plan submitted by the Department of Culture, Sports and Tourism. However, until today, October 8, things still remained where they were.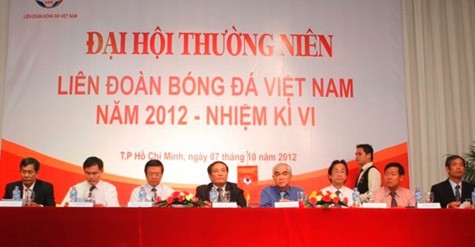 A meeting of VPF (Photo: Internet)
The City-based Navibank Saigon Club is likely to withdraw from the V-League championship as it cannot afford the VND45 billion expenses necessary to keep the club going. Its major sponsor, Navibank, last week announced that it would stop funding the club because of its own internal financial troubles.
Navibank Saigon Club, a big sponsor for many sports stadiums and sporting events, is seeking permission to be transferred to the Hanoi Football Federation (HFF).
The club stands to be dissolved if HFF, or any other sponsor institution, rejects the transfer request.
The Hanoi FC is also reportedly set for dissolution after its owner, banking mogul Nguyen Duc Kien, was arrested in August over charges of committing economic wrongdoings.
Kien is also the owner of the Hanoi Juniors First Division, which is expected to cease operations amid the present scenario.
With several clubs ready to withdraw from the V-League championship, Vietnam Professional Football Club said it already has a contingency plan in case this happens.
"The V-League can still run with less than 14 clubs," said the VPF statement, elaborating that the clubs from the First Division will replace after V-League withdrawal.
The new season of Vietnam's professional football league has been scheduled to start in late January 2013, which means there are now only four months left for insiders to alleviate the internal crisis that has raged since the end of this year's season.
The First Division 2013 will kick off on January 18, while the top-flight V-League will see its first competition round begin a day later, the leagues' operator, the Vietnam Professional Football, announced at the concluding meeting of the 2012 season on Saturday.
VPF has received the registration of all 14 clubs to be competing at the V-League, but it is not sure if the new season will start with this number of participants.
VPF was set up last year to better manage the football leagues under the management of VFF, but has completed its maiden term with, sadly, an unhappy ending.
At the concluding meeting last week, the company was accused of using VND2 billion from the V-League's budget to wiretap some club owners.
Nguyen Van De, chairman of Thanh Hoa FC and the person who made the accusation, said he has obtained fool-proof evidence against what Doan Nguyen Duc and Le Hung Dung called groundless allegation.
VPF has also been criticized for only summarizing the positive things it has done in the last season, while leaving out the negative side unaddressed.