LONDON, April 2, 2010 (AFP) - Martin O'Neill may decide to walk away from management with Aston Villa at the end of the season with the Ulsterman seriously considering his future ahead of a summer summit with American owner Randy Lerner.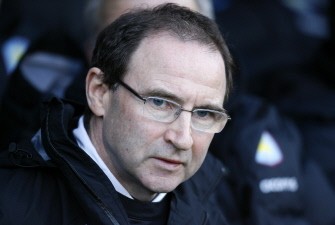 Martin O'Neill (AFP photo)
O'Neill has reacted to criticisms aimed at him following Villa's embarrassing 7-1 capitulation against FA Cup semi-final opponents Chelsea amid rumours of a breakdown with Lerner with a clear message that he retains the right to hand in his resignation.
Just days after rumours surfaced on the internet claiming O'Neill had already walked out on the club, O'Neill revealed he has been given total backing by the owner of the NFL Cleveland Browns franchise.
The Northern Irishman insists there has been 'no fall-out' with Lerner - but stopped short of confirming he will stay beyond this season.
The 58-year-old plans to sit down and 'assess' everything with American businessman Lerner at the end of the campaign.
The former Celtic boss has a 12-month rolling contract with Villa which he "hopes to continue" - but was less forthcoming when asked about his long-term future with the Midlands club.
O'Neill said: "There is not an ounce of truth in the story that I have had a fall-out with Randy Lerner. In fact, he called me earlier in the week to see where these stories were coming from.
"He was pretty surprised and also very supportive and it was good to hear that. I have been delighted with the investment put into the club. I have been allowed to invest 80 million pounds on players.
"If the chairman decided to sell and he has no intention of doing so, then he could get his money back with interest on four or five of those players. It is nonsense to say that I want to walk away now. There is still so much to play for and there is a renewed determination to see it through.
'I will assess everything at the end of the season. I will sit down with the chairman and see where we are going. There will be a number of determining factors, the supporters, the chairman who will have a big part in proceedings, and I will also play a part because it is my life."
O'Neill insists his zest for football is as strong as ever as he approaches four years with Villa. And he is refusing to give up on the possibility of Villa claiming a Champions League spot this season as they look to bounce back from the humiliation at Stamford Bridge when they visit Bolton on Saturday.
"I won't need to get a reaction from the players. They will do that for themselves. We don't have to keep beating ourselves up over that. It was disappointing, but we are still in there trying to get into fourth place," he said.
O'Neill will check on the fitness of several leading players including Richard Dunne, Emile Heskey, James Milner, Gabriel Agbonlahor and John Carew before finalising his side for the Reebok clash, while Bolton defender Zat Knight says he is seeking revenge on former club this weekend.
Knight will be hoping his side make amends for the 5-1 mauling they received at Villa Park earlier in the season, his first game against his old club since moving to the Reebok.
Owen Coyle's squad will be looking for points to help them inch further away from the relegation zone.
"Aston Villa battered us at Villa Park. So hopefully we can get three points on Saturday and even things up for me a little bit. There are a few of us who feel the same way and we know that we still need the points to make sure we are safe this season," said Knight.